Hub hostel for strolling peaceful town and mountaineering
1166 backpackers is a place to sleep, meet local people in Nagano, Japan. We have 3 rooms waiting for you to sleep in. Our lounge is a great place to sit back, relax and enjoy with playing games or reading books. We are located in the MONZEN neighborhood in the old city center where is few steps away from the Zenkoji temple.
Travel as escaping the hustle and bustle of urban city to Zenkoji temple, you will see old traditional houses here and there. To be amazed, over 50 small business like cafes, restaurants, book shops, flower shops, galleries and craft shops are newly opened by young people in this 5 years with renovating old warehouses in this area. These shops are not for busy tourists hopping around major touristic spots with lonely planet but for tourists who need time for chill-out.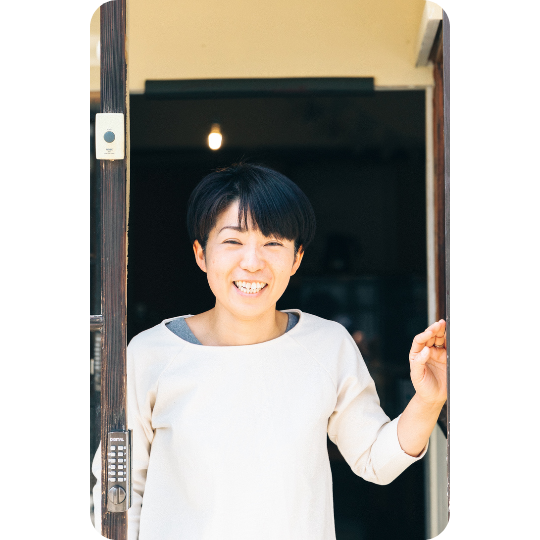 ORIE
Owner of the hostel. was born in Hyogo pref. and spent 4 years in Kyoto, 2 years in Canadian rockies as a tour guide, a year in Australia as an editor and 4 years in Kamikochi as a hotel receptionist. Also traveled in Europe, some cities in Asia and States. We're waiting for you with all the information you need.
---
EMI /
I'm Emi. I'm from Fukui. I used to work at a guesthouse in Kamakura. I want to open a guesthouse and cafe in the future, so I came to 1166 backpackers for training. I like to make pudding and chiffon cake. My hobbies are road bike and writing essays. I'm studying English. Thank you.
---
ASUKA /
I was born in Kochi pref. and grew up in nature. I had been longing for the city life so had got a job in Chiba, but a trip to Kamikochi sparked my interest in mountaineering, and before I knew it, I began to think about living in Nagano. While searching for the charm of Nagano and which part to move into, I hope to have a good time interacting with everyone.
---
HIROKO /
Hello. I'm Hiroko. I worked as a teacher for nearly 10 years. I've been working at 1166 since April because I want to see a world I don't know, and I want to meet people I've never met before. My current goal is to be able to speak English! I'm studying because I can't speak well. My favorite things are running, traveling, seeing beautiful scenery, eating delicious food, drinking alcohol, visiting cafes, karaoke, etc. thank you!
---